The following is a list of recommended supplies that will help you to create the projects that are presented in this book. While I do want to let you know which supplies I used in case you want to duplicate these projects exactly, I also want to empower you to feel free to experiment with other supplies as well. Please do not feel like you must be a slave to my choices of supplies. The "Craft Police" will not arrest you if you stray from these recommendations! Wherever possible, use supplies that you already have on hand, and feel free to make substitutions.
Scissors
The techniques in this book rely heavily on decorative-edged scissors, otherwise known as "Paper Edgers". Some of the paper laces in this book can be made with a single pair of them. Many of the laces require the use of more than one pair; it would be advantageous to have a variety of scissors on hand. The projects shown were made using Fiskars brand scissors, however, there are lots of other brands that would work as well. The main consideration is the quality of the scissors; will they be strong enough to cut through a couple of layers of paper? The following scissors were used to create the projects in this book:
Fiskars Paper Edgers, Mini Scallop
Fiskars Paper Edgers, Victorian
Fiskars Paper Edgers, Clouds
Fiskars Paper Edgers, Seagull
Fiskars Paper Edgers, Majestic
Fiskars Paper Edgers, Sunflower
Fiskars Paper Edgers, Heartstrings
Fiskars Paper Edgers, Arabian
Where to buy Paper Edgers:
Ebay:
I originally purchased my first pairs of Paper Edgers on
ebay.
I got a really good deal on them, but I was lucky to have found a seller who was selling like-new scissors. I am not willing to promise you that you will be able to find as good a deal as I did, but you can certainly take a look and see what is available. (remember to check sellers' feedback and take into consideration the item's condition before buying anything on ebay!) In hindsight, I do recommend buying brand new paper edgers if you can, because you will be getting a LOT of use out of them if you are serious about making paper lace. Even if purchased new, they are affordable.
Dick Blick
has a fantastic selection of Paper Edgers.
Click here to see them.
Scrapbook.com
has 2 different assortments of paper edgers. The
Designer Set
has 6 pairs of paper edgers, 4 of which are some of my most frequently used pairs of scissors. So if you are only looking to get one package deal, that one is a pretty good choice, although it doesn't contain all the scissors I use in making my paper laces. The
Classic Set
is nice to have, but I don't actually have any of the scissors in that set, (yet- although I would like to.) So, for the time being, you will not find any projects that use the scissors in that set. In the future, maybe you will. I do think the scissors in that set would make delightful paper lace, and I would love to design some paper laces using the Fiskars Classic Set. The photo above shows my collection of paper edgers and decorative-edged scissors. I have them organized in a Fiskars tote. I think this is the ideal way to keep them organized, and I recommend this tote if you are going to buy a bunch of Paper Edgers. The only problem is, I tried to find a place to buy these so I could link to them for you, but I couldn't find them anywhere. I guess they are hard to find.
I got mine on
ebay
, so if you want one, try checking there. The truth is though, the one I have is old and there are lots more cuter and trendier totes available.
Scrapbook.com
has a selection of brand new totes available for sale.
Paper Punches
There are multiple kinds of craft punches available. Any of them are acceptable to use, however, there are certain considerations to keep in mind when choosing craft punches. One of them is the reach of the punch. For these projects, it is helpful to have a variety of punches with a reach of at least one inch; hand punches work well for the majority of the projects presented in this book.
"Long Reach" punches
will enable you to create an even greater variety of paper laces, so those are recommended as well. Another consideration is the quality of the punch: will it be strong enough to repeatedly punch through a couple of layers of paper? The size of the punched area is something you will also need to take into account. It is advantageous to have a variety of sizes. My own lace designs tend to heavily use ¼" punches, with various accents that are both larger and smaller. The projects in this book are made using the following:
Fiskars ¼" heart hand punch
Fiskars ¼" flower hand punch
Fiskars 5/16" teardrop hand punch
Fiskars 3/16" square hand punch
Fiskars 1/16" circle hand punch
Fiskars 5/16" diamond hand punch
Where to Buy Fiskars Hand Punches:
Dick Blick has them for sale. Click here to view them.
Scrapbookpal has them for sale. Click here to see them.
Graph Paper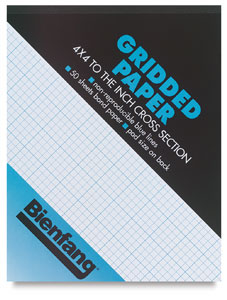 I prefer to work with graph paper that has grids measuring ¼"; smaller grids are fine to work with, too, but I recommend that you start out with 1/4" grids until you have some experience with these techniques. Nearly any weight of graph paper will work, although heavier weight graph paper tends to be easier to work with than lightweight graph paper. If your local office-supply store offers a choice, go for the heavier weight.
Dick Blick sells Bienfang Cross-Section Graph Paper. Click here to see it.
Paper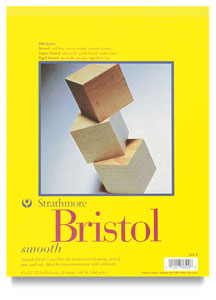 You will be able to use a variety of papers for these projects. The projects in this book require use of a grid in order to help guide you when you are cutting and punching the paper to make your laces. There are several manufacturers that make paper with a grid printed right on the back of it. These papers are easy to work with and use, however, you are not limited to only using those, because a grid can be attached to the back of almost any paper. The main thing to look for is paper that is sturdy enough to withstand being glued to graph paper, yet is still thin enough to easily be cut with your decorative scissors.
Cardstock
and
Bristol Board
both work well for this task. Most scrabooking papers will also give good results. You can also use your computer and printer to print out a grid on the back of your paper. (Creation and use of grids will be covered in more detail later.) Some tips: If you're new to paper crafts, and you're worried about messing up, I recommend that you use paper you don't care about for your first few attempts at making paper lace. Then you won't be nervous about cutting into the paper. You can raid your kids' construction paper stash or even cut up some of your junk mail, just to get the hang of it. Have you ever noticed the insides of the envelopes your bills come in? Some of them have really interesting blue and white or gray and white patterns. You can try experimenting with scraps of those, and they do give some interesting effects. Once you feel confident that you know what you're doing, then it's better to move on to using acid free papers that you know will stand the test of time, especially if you plan on using paper lace embellishments in your scrapbooking layouts. When I make paper lace, there are lots of different papers that I love using, and I am not afraid to experiment. Cardstock is my all-time favorite, and I highly recommend
Bazzill's lovely textured cardstock papers
for paper lace making.
Bazzill Fours and Bazzill Monochromatic Paper Packs
are expecially recommended, because you will find that they are an absolute no-brainer to use when it comes to choosing colors for your paper laces. Many of the paper lace designs you will be learning require 2-4 coordinating colored papers. If you are not 100% confident in your ability to choose colors that work well together, this is a foolproof way of getting good results. For those of you who are more adventurous and want to use patterned papers, I really encourage you to try that too. I do recommend using subtle patterns rather than bold patterns. Texture-rich patterns with subtle color gradations are especially lovely. While you are learning the basic techniques, it is preferable to avoid using papers that have a lot of bold contrasting motifs. Later- anything goes! Although I have tried using a lot of different patterned papers to make paper lace, I still tend to prefer using subtle textured patterns, depending on the desired effect. You might also want to try painting your own patterns, which I will cover in more detail later. Size-wise, it is much easier to make paper lace using paper that is 8.5" x 11" or smaller, than it is to make paper lace out of paper that measures 12"x12". When you are first learning how to make paper lace, I recommend that you start small. Even if you normally scrap 12x12, you will be able to find plenty of uses for smaller pieces of paper lace. I really love buying
pads, both 6" x 6" paper pads and 8" x 8" paper pads.
These small-sized pads are ideal for making paper lace for greeting cards, but I often use these smaller pieces of paper lace in 12 x 12 layouts as well. After you've mastered the basics it will be less of a challenge to try the same techniques to make 12" paper lace borders.
Sponge Brushes
I use
sponge brushes
to assist me in applying glue to my papers and laces. It is helpful to have a variety of sizes of sponge brushes on hand. Always use the largest sponge brush that will comfortably get the job done; for large areas, make sure to use a large sponge brush. You will still need a selection of smaller sponge brushes to use in creating paper laces with lots of delicate details.
Adhesive and Glue
For the majority of the projects in the book, I've used a PH-Neutral white bookbinder's glue. However, special glue isn't necessary; your own favorite paper-crafting glue will probably work just fine for these projects. Even Elmer's glue will work well with these techniques.
Ribbon
I tend to favor
narrow ribbon
for use in my laces. The projects in this book feature ribbon measuring 1/8 inch / 3 mm. You'll want to choose ribbon that compliments the papers you have selected. It's also fun to experiment with a variety of ribbons in different colors and patterns.
Paper Towels
You'll need paper towels or old rags for blotting glue and cleaning up.
Optional Supplies:
You will be able to make a fantastic variety of paper laces using only the supplies listed above. However, the following optional supplies can greatly enhance your laces, and are used in some of the projects in the book.
Border Punches
There are some really fancy border punches on the market, and these can be used all by themselves to make exquisite paper lace. I have other pages on this web site that give instructions for making paper lace projects with border punches.
Click here to see my page about making paper lace with the Fiskars Sunburst punch.
I also have a page about
Martha Stewart's border punches.
Hers are exquisite, and most of them are very lacy! If you have any interesting border punches in your stash, they will really come in handy when you create paper lace. If you don't already own some, they'd be a great addition to your collection of paper crafting tools.
Bone Folder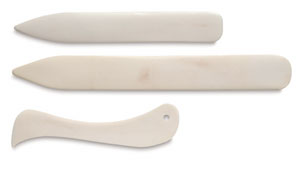 This handy little tool will help you to create crisp, tidy folds when you make greeting cards and similar projects. There are lots of places to get bone folders; you can buy them separately if you don't already have one, but a lot of scrapbooking tool kits include bone folders. The one I use was included with the
Making Memories Distressing Kit
. If you need to buy a bone folder but you don't want to buy a whole tool kit,
you can click here to see the options available at CreateForLess
, OR you can
click here to check availability at scrapbook.com.
Dick Blick sells
Lineco Bone Paper Folders and Scorers
.
Vellum
I've used Canson 90
Vidalon Vellum
for the projects shown in this book.
Rubber Stamps
Border stamps and stamps with sentiments, words and expressions are particularly well suited to use with paper lace. However, a variety of stamps will give interesting results. If you already own some rubber stamps or clear stamps, take a look through your stamp stash to see if there are any stamps that you'd like to try using with these techniques. If you are interested in purchasing lace-themed stamps or border stamps for use in these projects, there are lots of amazing stamps to consider.
"Build A Frame" stamp sets manufactured by Prima
are particularly versatile, and would be a fantastic choice for use in these projects. I will be including other recommendations on a project-by-project basis.
Inkpads
I enjoy experimenting with different inkpads, and I use a wide variety of inks in my projects. Please refer to individual project instructions for specifics of the inkpads I've used in each design. For your own designs, feel free to experiment with different inks and colors. For every imaginable need, there is a corresponding inkpad, so you certainly have plenty of options!
Walnut Inks
I like working with Tsukineko Walnut Inks, which are available in spray bottles. The projects in this book use the following colors:
Walnut Ink
Java
Terra Cotta
Eucalyptus
Cherry Blossom
Lilac
Willow
Cornflower
Joann.com sells these Tsukineko Walnut Ink Antiquing Solution 4-Color Kits.
I found an ebay seller who has both kits and single bottles of Tsukineko Walnut Ink in stock.
Click here to visit the current listings for Tsukineko Walnut Ink in this seller's ebay store.
Shop.com Has a Set of 4 Walnut Inks Available For Sale.
I also use FiberScraps E-Z Walnut Ink Tintz in the following colors:
Tea Stain (My favorite!)
Smoke
Walnut Ink
I got mine on
ebay.
Joann.com had a slightly better selection of them last time I checked.
Amazon.com has EZ Tintz Walnut Inks For Sale.
Please be aware that there are many other brands and types of walnut inks that will work just as well. You do not need to limit yourself to the ones listed here. Additionally, there are many other acceptable alternatives including various tints and shades of paints and dyes.
Paints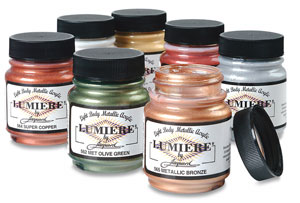 There aren't many limits on the types of paint that can be used; the most important thing is that the paint can be used on paper. Acrylics, watercolors and gouache are all good choices. Higher quality paint is preferable for projects that you want to last, but choose paints based on your own budget and preferences. Some of my current favorites:
Lumiere metallic paint Lumiere metallic paint by Jacquard Products / Rupert Gibbon & Spider. This paint will add a gorgeous shimmer to your paper lace (or for that matter, to any papers, fabrics, wood, canvas or styrofoam you want to use it on.)
Winsor & Newton Designer's Gouache
Paintbrushes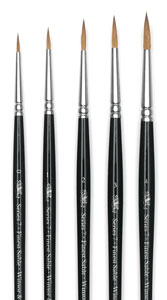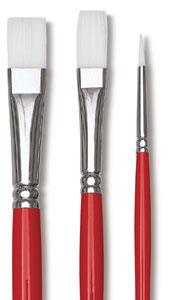 Choose paintbrushes that are well - suited for use with the type of paint that you are working with, in a variety of sizes. Generally, higher quality brushes tend to be much easier to work with than lower quality brushes are. Your own personal preference is really the best determining factor in which brushes to use. If you are absolutely stumped about which paintbrushes to get, try a few from
Winsor Newton's University Brush- Series 237.
This is an all-purpose series suitable for beginners; it can be used with acrylics, watercolors and gouache. If you already know that you'd prefer to work with gouache or watercolors, and you can afford to invest in superior quality paintbrushes, start out with a couple of the smaller sizes
of brushes in Winsor Newton's Series 7
or 707.
Spray Bottles
I like to use spray bottles when applying paints and inks to paper. Spray bottles can be used to achieve a variety of effects, from "antiqued" looks, to wild-and-crazy splatter effects.
Salt
When creating hand painted papers, I often use salt to enhance the hand-painted effects. Any salt will do, but if you can find a variety of sizes, so much the better. I love working with sea salt. Table salt also gives interesting effects.
Jewelry Findings
When you are choosing jewelry findings, it's important to only use pieces that will not overpower your laces. Small and delicate are good characteristics to look for. Also, you don't want to overload on these things; use just enough to give your laces a bit of sparkle and pizzazz, without making them look overly fussy or busy. Some things to look for:
Cabochons
Wire
Beads
Charms
Findings
Look through your own stash of supplies to see if you already own appropriate findings.
Collage Sheets, Clip Art, Photos, or Other Interesting Images
Imagery can add a whole new dimension to your laces. You can enhance the mood of a scrapbook page or the visual impact of a greeting card by incorporating intriguing imagery into the lace design. I tend to keep lots of interesting images on hand so that I have a variety to choose from when I am working. I like cutting up
vintage and antique magazines
for this purpose. I also buy lots of old photos and numerous
clip-art books.
Additionally, there are featuring a variety of antique and vintage images that you can purchase inexpensively. If you don't already have some images on hand that you can use for this purpose, the linked items here will help you to locate some.
Fibers and Yarns
I often use
novelty yarns and fibers
when embellishing scrapbook layouts, gift tags, art trading cards and altered books. Fiber adds a touch of luxury and softness; use of fibers can result in a project that is as pleasant to touch, as it is to look at. Selected projects in this book incorporate fibers. Please refer to individual project instructions for details about the fibers I've used. If you already own fibers that would work in these projects, feel free to substitute them.
Archival Sprays
For those who are concerned about creating only archival-quality projects, archival sprays can come in handy. These can be used to make your paper projects acid-free, even if they weren't acid-free to start with. Archival sprays can really ease your mind about using antique papers, or other papers of questionable PH, in your cherished memory albums. Please see the resources section for further information on where to obtain archival sprays.
Click here to see what's currently available to buy on ebay.
Eyelets and Brads
Eyelets and brads are fun embellishments to use in your paper laces, and there are many choices available. I keep a variety on hand to use at whim.
Thread
I simply cannot resist pretty spools of thread. I own almost every color of thread known to womankind, mostly
purchased secondhand on ebay
, at yard sales, and from thrift stores. Having a variety of colors on hand really saves time. If you don't already have a well-stocked sewing basket, you'll want to plan ahead and purchase some thread in colors to match the projects you have in mind. In this book, thread is used mainly in the chapter on vellum, but it can also enhance a variety of scrapbook layouts, greeting cards, art trading cards and other projects.
Sewing Machine
A sewing machine that features both straight stitch and zigzag stitch options is recommended. Stitched effects from a sewing machine can greatly enhance your paper laces. They are particularly helpful when creating laces using vellum; since you can see right through vellum, machine stitching is usually superior to gluing when creating vellum laces and attaching them to your projects.
A Stack of Miscellaneous Books Measuring 8.5" x 11" or Larger
I like to keep plenty of books handy, not only for reading but also for use when crafting paper lace. I often press my laces between a couple of books to keep them flat after I have made them. I also use the books at various other steps in the lace making process.
These are the supplies that I use to create paper lace. I will be posting a complete supply list along with each paper lace project, so that you always know which supplies will be used. If you have questions or need additional help, please feel free to post a comment and I will do my best to answer. Thanks for your interest!