Materials and Supplies:
The patterned paper used for the background is "Flora Bella", from the Fleuriste Collection by Cosmo Cricket.
The green patterned paper used to make the paper lace accents is the "Garland Green" design from the Snow Globe collection by Reminisce. Never mind that that's supposed to be a winter-themed line of papers. When I am creating, I feel completely free to ignore how supplies "should" be used. There is no rule that says you must use papers in exactly the way that the designer or manufacturer intended.
The other papers used to make the paper lace are Strathmore Bristol Board that I hand painted using Jacquard fiber reactive dyes. Yes, you read that correctly: dyes. As in, fabric dyes that were left over after a session of dyeing fabrics for one of my surface design classes. Paper and cotton fabric have some similar properties, and hand-dyed paper is every bit as gorgeous as hand-dyed fabric!
Narrow ribbon (1/8″ / 3mm.)
Cardstock
Colored Pencil (for journaling): Prismacolor
Decorating Chalks: Craf-T products
Dye Ink: Rubber Stampede
About the Journaling Block:
The journaling block is a block print of my own design. Block printing and rubber stamping are very similar processes; the biggest difference is that, with block printing, you are easily able to design your own stamping block from scratch. Then you carve your design out of an appropriate material such as linoleum, wood, etc. Some people carve their designs using unusual surfaces like erasers, potatoes or styrofoam plates (Sherril Kahn teaches about using stamps cut from styrofoam plates in her book called
Creating With Paint: New Ways, New Materials
a book that I highly recommend.) My personal preference is to use
Staedtler Mastercarve Artist's Carving Blocks,
which are much easier to cut than wood or linoleum. That is one very good reason to use them; they cut so easily. Also, they do not crumble up like some other brands that I have tried (although they are still a bit fragile and should be used and stored carefully.)
Here is a picture of what these Artist's Carving Blocks look like when they are brand new and uncut: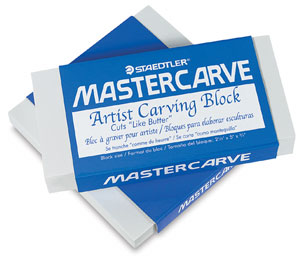 And then here is a picture of what mine looks like after having been cut. I am warning you, it isn't pretty, because these aren't easy to get totally clean after you have inked them. Seems like no matter how much you wash them there is going to be some faint staining. But despite that they work well and stamp cleanly.
The block is carved using a
Speedball Linoleum Cutter.
. It looks like this: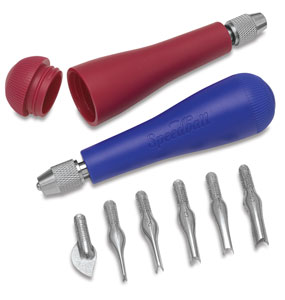 About the Paper Lace Used to Embellish This Scrapbooking Layout:
The paper lace is handmade using techniques that I will be writing about in upcoming chapters of my
Free Paper Lace Idea Book for scrapbooking, card making and paper crafts.
I haven't yet posted the instructions for how to make the paper lace designs that you see on this layout. However, I will be adding the instructions shortly, so please check back soon!
Thanks very much for taking a peek. Hope you are having a fabulously interesting and creative day!